The Authority Health Internal Medicine Residency Program is designed for resident graduates to be well prepared to enter a primary care practice-based environment, or a hospital-based environment, as an internist or hospitalist. Trainees who begin this postdoctoral program with the internal medicine track will complete their training in three years.
This is an ACGME accredited program, accepting both DO and MD candidates. Ambulatory care and comprehensive internal medicine services are stressed, and significant time will be spent at Detroit-area Federally Qualified Health Centers, community clinics and private practice offices interacting with patients, their families and medical staff. The inpatient components of training take place at affiliated hospitals in the Detroit area.
The program's academic partner, Michigan State University College of Osteopathic Medicine (MSUCOM) Statewide Campus System, hosts 36 academic days that are completed one day per month in various topics. Additional modules and full resources from the Statewide Campus System (SCS) are available to the residents online.
Community servitude and community presence are highly valued within the Internal Medicine Residency Program. During our scheduled +1 Weeks, the IM residents have a full day of community service throughout their residency. These days are nonclinical experiences.
Categorical Internal Medicine – NRMP # 1920140C0
Internal Medicine Residency Staff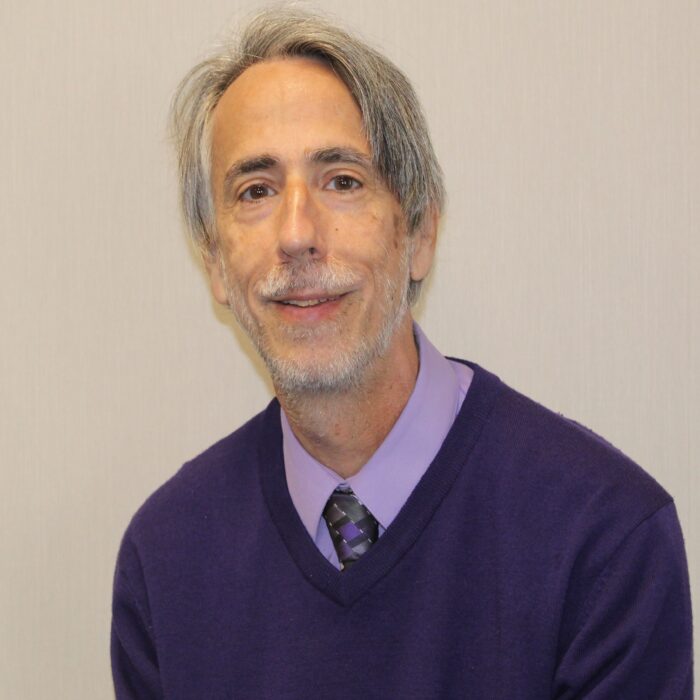 Joel Appel, DO, FACP
Program Director
Joel Appel, DO, FACP is the program director for the Authority Health Internal Medicine Program. Dr. Appel is the director of subinternship and ambulatory programs at the Wayne State University School of Medicine. He is an Associate Professor of Internal Medicine. He is chief of hematology and oncology at Sinai Grace Hospital. He also co-chairs the NBME-CDIM Internal Medicine Task Force. Dr. Appel's current interest centers on the teaching of clinical reasoning skills in the preclerkship and clerkship years and he has authored numerous publications and presented nationally on this topic. He currently serves on the council for the Clerkship Directors of Internal Medicine and chairs the Clinical Reasoning task force at the Directors of Clinical Skills Courses. Dr. Appel is board certified in internal medicine and medical oncology. His wife Carol is a nurse practitioner, and his son Aaron is a recent graduate of Oberlin College. Dr. Appel believes strongly in community outreach and being politically involved in the profession.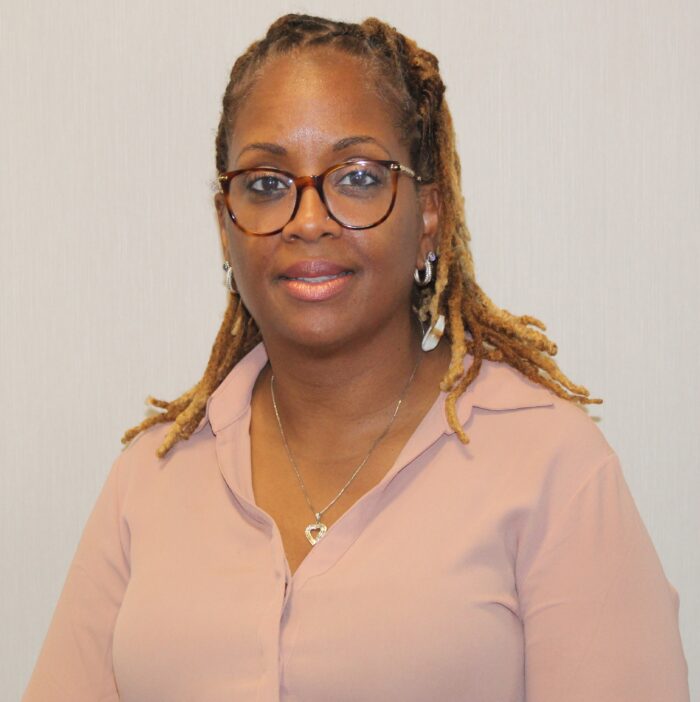 Felicia Randolph, MD
Associate Program Director
Felicia Randolph, MD, is a native Detroiter. Upon receiving her medical degree from Wayne State School of Medicine, she attended residency at Detroit Medical Center and Children's Hospital of Michigan. After graduating from the internal medicine and pediatric training program she joined Abbott Medical Group, a private practice in the city of Detroit. Dr. Randolph remained there for several years working part time while raising her young family. Shortly after obtaining her board certification and the birth of her third child, she took a full-time position at The Wellness Plan, a Federally Qualified Health Center also in Detroit. In this setting she realized it was her passion to care for the people with the greatest need for efficient, affordable, compassionate, evidence-based medical care. She continues to utilize her skill set to provide medical care in various practice types to the underserved population. Dr. Randolph has more than 20 years of experience working in the areas of primary care and urgent care. As associate program director of the Internal Medicine Residency Program at Authority Health, she spends part of her work week in dedication to training future doctors; as well as time devoted to her primary care practice at Western Wayne Family Health Center. She is also an entrepreneur, opening and managing a rehabilitation center located in Livonia for those injured in motor vehicular accidents.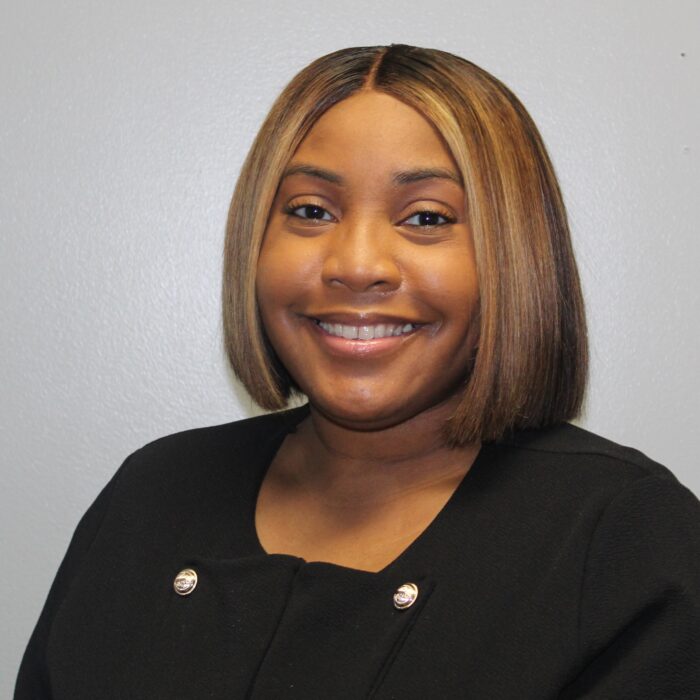 Cierra Ballenger, MHSA
Program Coordinator
Cierra Ballenger is Authority's Health Internal Medicine Coordinator. Cierra is a Detroit native, she attended Saginaw Valley State University where she earned her Bachelor's degree in Health Science. In addition, she recently graduated from the University of Detroit Mercy with a Master's in Health Administration. Cierra began her career in healthcare five years ago as an intern for Blue Cross Blue Shield of Michigan. Her previous career allowed her to increase her expertise on Durable Medical Equipment (DME) and build upon her skills as a Leader within Healthcare.  Cierra believes that skilled doctors and quality of care is the key to a healthy population.  In her free time Cierra, enjoys reading new books, spending time with family and traveling.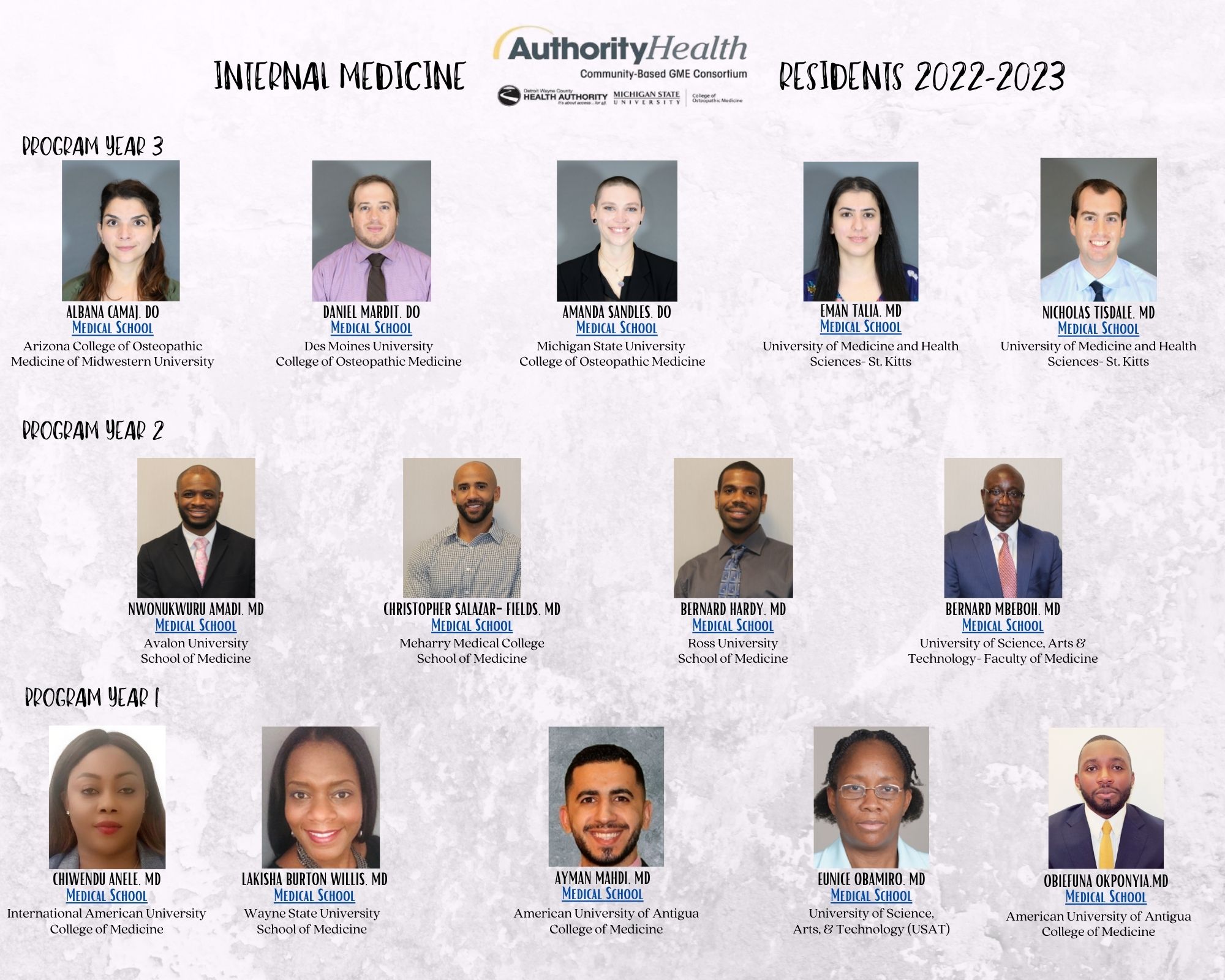 | Year 1 | Year 2 | Year 3 |
| --- | --- | --- |
| 2 Block MICU | 3 Block Inpatient IM | 2 Inpatient IM |
| 3 Block Inpatient IM | MICU | MICU |
| 2 Ambulatory IM | Ambulatory IM | Ambulatory IM |
| Full Block Elective | Cardiology | Rheumatology |
| Gastroenterology | Infectious Disease | Hematology/Oncology |
| Pulmonary | Nephrology | Endocrinology |
| 2 Week Elective | 2 Full Block Electives | Geriatrics |
| | | Emergency Med |
| | | Neurology |
| | | |