College Vaccination Requirements Work to Improve Health
College Vaccination Requirements Work to Improve Health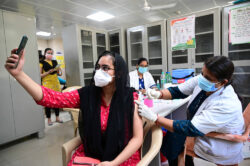 By Dennis Archambault
COVID vaccinations may be unpopular among some, they save lives and promote health at universities and their surrounding communities, according to a study conducted by the National Bureau of Economic Research. As parents of young children prepare to get their children vaccinated before the new school year begins, many colleges are continuing to require their students to be vaccinated. And that's a good thing for containing the spread of the coronavirus.
According to the study, "over the first 13 weeks of the fall 2021 semester, college vaccine mandates reduced new COVID-19 cases by 339 per 100,000 county residents and new deaths by 5.4 per 100,000 residents, with an estimated value of lives saved between $9.7 million and $27.4 million per 100,000 residents. These figures suggest that the mandates reduced total US COVID-19 deaths in autumn 2021 by approximately 5 percent."
These findings are not only significant for the college community, but the vaccine requirement also positively affects a much broader regional population. The study shows that counties with universities that had the requirement posted better outcomes than other counties.
Scott Imberman, a professor of economics and education policy at MSU and one of the study's authors, said, that once COVID-19, an infectious disease, "gets engrained in a community, it can spread quite widely through that community pretty quickly." While the student population is younger and less likely to die from COVID, he said that the lives saved may have been among those who are older, retired and off campus in the wider community, according to as Detroit Free Press article.
The college community, as a microcosm of society, has shown that reason needs to prevail in difficult public health decisions, clouded by political controversy.
Dennis Archambault is vice president of Public Affairs for Authority Health.