Anxiety Screening in the Primary Care Setting Advances Integrated Health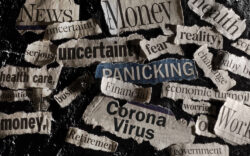 By Dennis Archambault
Many have referred to this period as the "age of anxiety" and "future shock." Coming out of the coronavirus pandemic, amid domestic and international disruption and climate change, there's plenty of reason to be anxious. In fact, nearly half of American women and a quarter of American men have reported experiencing anxiety.
The U.S. Preventive Services Task Force has recommended anxiety screening in primary care for adults without symptoms. This is another step in integrating physical and mental health and providing more holistic care. The recommendations suggest that a conversation occur between providers and patients, which may lead to some form of emotional or behavioral health intervention that could be life-enhancing, if not lifesaving. The task force actually began work on this before the COVID-19 pandemic, but the impact of the pandemic and other events has exacerbated the situation that some have called a mental health epidemic.
Black people and other minorities, those living in poverty, people who have lost partners and close relatives, and others facing emotional stress are among the population susceptible to anxiety.
The task force's recommendation is important because they underscore the relevance of mental/emotional wellness in the health equation. Put another way, symptoms of anxiety can be a trigger for physiological problems. Some include:
A pervasive sense of doom or distress.
Depression, listlessness
Panic attacks
Headaches from constant worry and stress
Irritability
Breathing problems that may be more intense during a panic attack
Heart palpitations
Upset stomach, reduced sexual desire
Extreme fatigue
Increased blood pressure
Muscle aches and pain unrelated to exercise
For many, temporary relief may come through comfort food. Well, not only isn't it therapeutic, but it can also worsen anxiety, particularly if you're prone to consumer sugar products. A 2019 study found that regular consumption of saturated fats and sugar were related to higher feelings of anxiety in adults over age 60. It can weaken your ability to deal with stress and may lead to depression, particularly after consuming sugar products. Overconsumption of sugar triggers imbalances in brain chemicals. Withdrawal can feel like a panic attach, causing more anxiety, irritability, confusion, and fatigue.
The task force recommendations are subject to public comment through Oct. 17.
Dennis Archambault is vice president of Public Affairs for Authority Health.