Authority Health Establishes Child and Adolescent Health Center in Southfield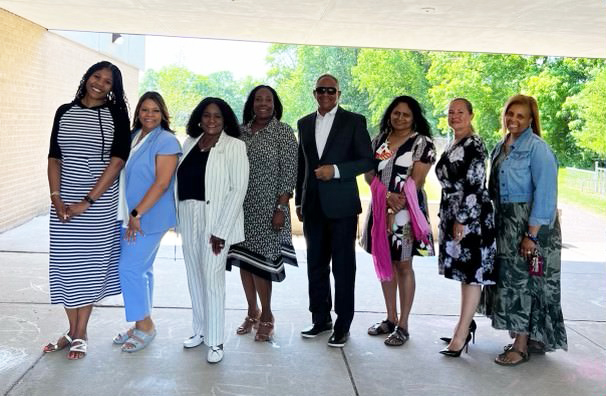 From left: Ashanti Bland, President at Southfield Board of Edu; Tonya Hickman, Principal at Stevenson Elementary School; Loretta Bush, CEO at Authority Health; Brandi Lagodzinski, Chief of Staff at Authority Health; Stephon Thompson, Academic Supervisor; Prashanti Boinapally, M.D. – Director of Programs & Quality at Authority Health  Dr. Jennifer Martin-Green, Superintendent of Southfield Public Schools.; Melanie Land, Community School Coordinator.
For Release – July 12, 2023                                                           Contact:
Dennis Archambault
313-477-7239
darchambault@authorityhealth.org
Authority Health Establishes Child and Adolescent Health Center in Southfield
DETROIT — Authority Health has been approved to establish a Child and Adolescent Health Center at Adlai Stevenson Elementary School in the Southfield Public School District, through a $180,000 grant from the Michigan Department of Health and Human Services Child and Adolescent Health Center program. The health center will open in September 2023.
"We're thrilled to have this opportunity to establish a comprehensive medical home for children and adolescents in the Southfield area," said Loretta V. Bush, MSHA, president and CEO of Authority Health. "School-based health centers promote health and educational equity by reducing absenteeism, connecting families to health coverage, reducing emergency room visits, and providing reimbursable health services. This health center will complement our efforts at filling a critical gap in access to primary health care in the community."
The health center is a partnership between Authority Health and Adlai Stevenson Elementary School. Within a school-based health center, medical services are provided by a nurse practitioner, medical assistant, and behavioral health provider. A Community Advisory Committee, made up of school staff, local parents of school-aged children or adolescents, local community institutions, and clinicians assure essential oversight of the health center's mission. In addition, a Student Advisory Council provides insight as to the student perspective on health services.
"Exciting things are happening at Stevenson Elementary School and launching our School Based Health Clinic will align to the pillars of being a United Way for Southeastern Michigan Community School," said Tonya Hickman, Principal of Stevenson Elementary School. "This integrated support will afford us the opportunity to provide health and mental wellness services to the scholars and families in our community. We appreciate Authority Health's dedication and commitment to our learning community."
State Representative Jason Hoskins, Southfield, expressed his support: "We are thoroughly excited about the community health investments Authority Health is making right here in Southfield. With the opening of the Child and Adolescent Health Center at Adlai Stevenson Elementary School, countless young people in our community will receive much needed health services that will improve their quality of life."
State Senator Jeremy Moss added his support: "I cannot think of a better community than Southfield and Adlai Stevenson Elementary School to open a health center. We are a community that cares about making the future brighter for our youth and one step in that direction is providing a safe space along with adequate health care. The overall health of children and teens is vital to their growth along with development. With access to quality health care, especially in a setting such as Adlai Stevenson, it will lead to better outcomes in all areas of life. I cannot express how excited we are to have this health center in this community."
Authority Health establishes school-based health center at Stevenson School – 2
The Michigan Department of Health and Human Services administers Child and Adolescent Health Centers. These centers provide high quality, accessible, and comprehensive health services for youth that contribute to their physical, intellectual, and emotional well-being. In addition to primary care services, the center offers behavioral health services which are fully integrated with medical care. Other services include preventive care, such as vaccines, comprehensive health assessments, vision and hearing screening, medications, and management of chronic diseases like asthma and diabetes. The centers are located in schools but are open to all youth.
Authority Health also operates Hope Family Health Center, a school-based health center at Hope Academy in Detroit.
About Authority Health:
Authority Health is a health and human service organization engaged with community health centers, governmental and non-governmental organizations to strengthen the health care safety net of Detroit, Wayne County, and the region. We manage the nation's second largest primary care graduate medical education teaching health center program, an extensive health insurance and navigation program, and a network of primary care health services.
About school-based health centers:
School-based and school-linked health center services have been provided in Michigan through the CAHC program since the 1980s. State funding for such services began in 1987 through the Michigan Department of Public Health (now the Michigan Department of Health and Human Services [MDHHS]). The CAHC program is jointly managed by MDHHS and the Michigan Department of Education (MDE). For more information on school-based health centers, visit: CAHC Overview (michigan.gov).
For more information at https://www.michigan.gov/mdhhs/adult-child-serv/childrenfamilies/familyhealth/cahc.
State of Michigan contact:
Taggert Doll, MS
Unit Manager
dollt@michigan.gov
State Association:
School-Community Health Alliance of MI
Renee Topolski, Deputy Director: rtopolski@scha-mi.org
###